How To Change Your Mouse Cursor in Windows 10
There are tons of ways to customize your Windows desktop. You can change your theme's color, your background, your taskbar, and more. One customization that people don't realize they can do is change their mouse cursor or pointer. Here is how to change your mouse cursor in Windows 10.
How To Change Your Mouse Cursor in Windows 10
One of the primary reasons people will change their moue cursor is for presentations. You can make your cursor bigger, something more eye-catching, or change its color to help draw people's eyes easier to what you're presenting. 

If you have a high-resolution monitor, you may feel that you lose your cursor on the screen. In that case, it would be a good idea to change up your cursor style or size. Luckily changing your mouse cursor in Windows 10 is very simple. Here is how:
Hit the Windows Key
Type Mouse Settings

Under Related Settings, click on Additional Mouse Options

Click on the Pointers Tab
Click the Scheme dropdown and Choose a new mouse cursor scheme
From the last step, you can pick a range of different pre-built cursor styles. From the same Additional Mouse Options window, you can also disable Mouse Acceleration if you like. 
Besides just changing the scheme, you can also customize individual cursor types. Windows has dozens of different points that serve different purposes. You can customize these individually.
In the Mouse Properties window, select the cursor you want to modify.
2. Click Browse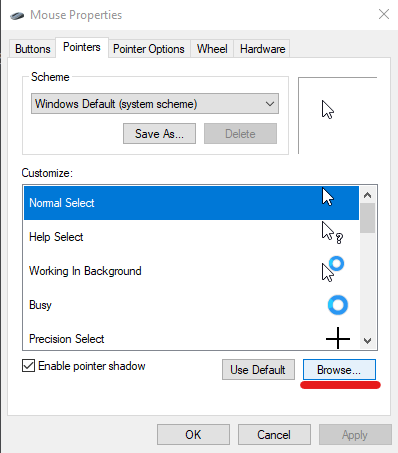 3. Choose a different mouse cursor file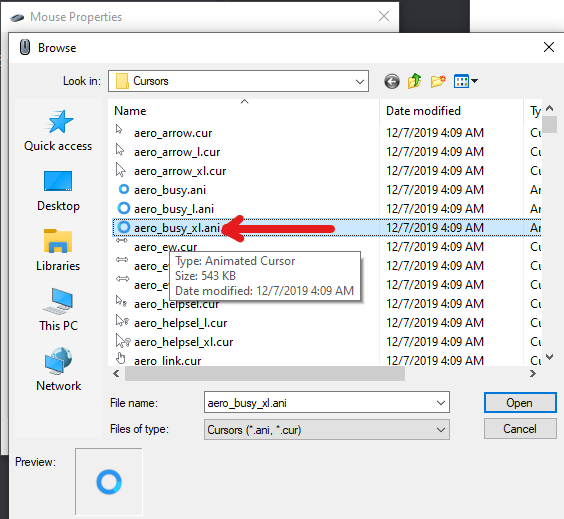 You will have tons of pre-built mouse cursor files to choose from. If you ever want to go back to the original, you can simply click Use Default.
You can also download mouse cursor packs. However, we can not vouch for their security and therefore cannot recommend that you download 3rd party mouse cursor packs. The built-in cursor options in Windows 10 are typically good enough for most users. We hope you found our How to change your mouse cursor in Windows 10 guide helpful, and stay tuned for more useful HowTos.