ChatGPT Prompts: How to Generate Recipes with AI
A step-by-step guide to using ChatGPT to generate delicious, tailored recipes.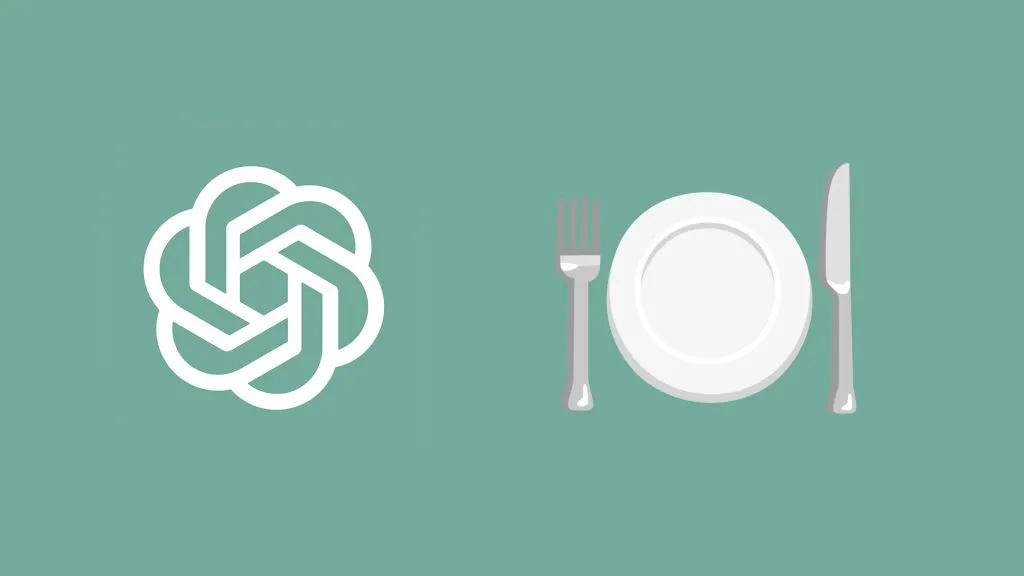 Discover the potential of AI in the kitchen with our comprehensive guide on how to use ChatGPT for recipes. Leveraging ChatGPT will allow you to create unique, tailored recipes for specific cuisines and types of ingredients. Whether you are a seasoned chef looking for a dash of inspiration, or a culinary novice eager to learn, this guide will show you how ChatGPT can revolutionize your cooking experience. 
As a disclaimer, ChatGPT is by no means a professional chef. We recommend double-checking the generated results thoroughly and adjusting the recipes as necessary. It is especially important to check the recipe if you want to avoid specific ingredients due to allergies or dietary restrictions.
How to Use ChatGPT for Recipes
To start, open ChatGPT and choose the latest Model. We are using GPT-4 for this example. Then, follow the steps below to generate new recipes to test in the kitchen.
Step 1: Define the type of recipe you want to generate
You can specify a type of cuisine (e.g., Chinese, Italian, Mexican), the type of dish (e.g., appetizer, main course, dessert), or specific ingredients you want to include or avoid. If you have any dietary restrictions, you can include that information in the prompt.
Example: "Generate a dairy-free Italian main course recipe."
Step 2: Ask ChatGPT for the recipe
After defining the type of recipe, ask ChatGPT to generate it. It is best to be as specific as possible to get the desired result. Be sure to include ingredients, how many people the recipe is meant to serve, and other details.
Example: "Generate a dairy-free Italian chicken pasta dish for two people."
ChatGPT chose to generate a Dairy-Free Creamy Tuscan Chicken Pasta. It substitutes traditional dairy cream with coconut milk to give the dish a rich, creamy texture without any dairy.
Step 3: Review the recipe
After ChatGPT returns the recipe for you, which will typically include a list of ingredients and step-by-step instructions to prepare the dish, check through the recipe and take note of any changes you want to make or any questions you may have.
For example, the instructions might say to use a kitchen appliance you don't have handy in your kitchen. That's something you can rectify in the next step.
If the recipe seems off or something you think you won't enjoy, simply tell ChatGPT to generate another recipe!
Step 4: Ask for any clarifications or additional information
After reviewing the ChatGPT recipe, if there is anything that's unclear to you or if you need additional information like serving suggestions, substitutions, or nutritional information, feel free to ask. ChatGPT can respond with detailed and helpful responses.
Examples: "What can I substitute for olive oil in this recipe?" or "What would be a good side dish to serve with this recipe?" or "What are the nutritional facts for this recipe (in table format)?"
Step 5: Repeat until you are satisfied with the recipe
Don't be afraid to keep tweaking the recipe until you are satisfied. You can even scratch the recipe and tell ChatGPT to generate more recipes until you get one you might enjoy.
Example: "Can you give me another dairy-free Italian chicken pasta dish for two people?"
ChatGPT Recipe Examples
Here are some recipes generated by ChatGPT on GPT-4:
ChatGPT Chocolate Chip Cookie Recipe
Here's a basic recipe for chocolate chip cookies.
Ingredients:
1 cup (2 sticks or 226g) unsalted butter, softened
1 cup (200g) granulated sugar
1 cup (220g) packed brown sugar
2 large eggs
2 teaspoons (10ml) pure vanilla extract
3 cups (384g) all-purpose flour
1 teaspoon (5g) baking soda
1/2 teaspoon (2.5g) salt
2 cups (about 340g) chocolate chips
1 cup (120g) chopped nuts (optional)
Instructions:
Preheat your oven to 375°F (190°C). Line a baking sheet with parchment paper.
In a large mixing bowl, cream together the softened butter, granulated sugar, and brown sugar until smooth. This should take about 2 minutes.
Beat in the eggs one at a time, making sure each is incorporated before adding the next. Stir in the vanilla extract.
In a separate bowl, combine the flour, baking soda, and salt. Gradually add this to the butter-sugar mixture, and mix until just combined. Be careful not to overmix.
Fold in the chocolate chips and nuts (if using) until they're evenly distributed throughout the dough.
Drop rounded tablespoonfuls of dough onto the prepared baking sheets. Leave about 2 inches between each cookie to allow for spreading.
Bake in the preheated oven for about 9-11 minutes, or until the edges are golden brown. The centers might look a little underdone, but they'll continue to cook as they cool.
Let the cookies cool on the baking sheets for 5 minutes, then transfer to wire racks to cool completely.
Enjoy your homemade chocolate chip cookies! Be sure to store any leftovers in an airtight container to keep them fresh.
ChatGPT Banana Bread Recipe
Here's a simple and delicious recipe for banana bread:
Ingredients:
1 cup granulated sugar (200g)
1/2 cup butter (1 stick or 113g), softened
2 large eggs
3 ripe bananas, mashed (about 1 1/2 cups)
1 tablespoon milk
1 teaspoon ground cinnamon
2 cups all-purpose flour (256g)
1 teaspoon baking powder
1 teaspoon baking soda
1 teaspoon salt
Instructions:
Preheat the oven to 325°F (165°C). Grease a 9×5 inch loaf pan or line it with parchment paper.
In a large bowl, cream together the sugar and butter until light and fluffy.
Beat in the eggs one at a time, mixing well after each.
In a small bowl, mash the bananas with a fork. Mix in the milk and cinnamon.
In another bowl, mix together the flour, baking powder, baking soda, and salt.
Add the banana mixture to the butter mixture and stir until combined. Add dry ingredients, mixing just until flour disappears.
Pour batter into prepared loaf pan and smooth the top.
Bake for 1 hour to 1 hour 10 minutes, or until a toothpick inserted into the center comes out clean. Let the bread cool in the pan for 10 minutes, then remove from the pan and transfer to a wire rack to cool completely.
Enjoy your homemade banana bread! It's delicious as is, or you can add some extras like a handful of chopped nuts, chocolate chips, or a teaspoon of vanilla extract to the batter for different flavors.
ChatGPT Mint Julep Recipe
Here's a classic recipe for a Mint Julep, a popular cocktail traditionally associated with the Kentucky Derby.
Ingredients:
8-10 fresh mint leaves, plus a sprig for garnish
1 1/2 teaspoons superfine sugar
Seltzer water
Crushed ice
2 1/2 ounces bourbon whiskey
Instructions:
Place the mint leaves and sugar in a highball glass or a silver Julep cup.
Muddle the mint and sugar together at the bottom of the glass, crushing the leaves to release the mint oils. You want to mix the sugar in well, but don't shred the mint leaves.
Add a splash of seltzer water and fill the glass with crushed ice.
Pour the bourbon over the ice. Stir until the cup is frosted on the outside.
Top with more ice, forming a small mound.
Garnish with a mint sprig and a straw. Trim the straw to just above the top of the cup (this is so your nose is close to the mint garnish, enhancing the aroma as you sip).
Serve immediately.
Enjoy your Mint Julep! Remember, it's a strong cocktail, so savor it slowly.
ChatGPT Pancake Recipe
Here's a simple recipe for classic pancakes:
Ingredients:
1 1/2 cups all-purpose flour (192g)
3 1/2 teaspoons baking powder
1 teaspoon salt
1 tablespoon white sugar
1 1/4 cups milk (295ml)
1 egg
3 tablespoons butter, melted (45g)
Instructions:
In a large bowl, sift together the flour, baking powder, salt, and sugar. Make a well in the center.
In a separate bowl, beat together the egg and milk. Pour the milk and egg into the well in the flour mixture, then add the melted butter. Stir just until combined, but don't overmix – it's okay if there are a few lumps.
Preheat a non-stick frying pan or griddle over medium-high heat. You can test if it's ready by sprinkling a few drops of water on it: if they dance around and evaporate, it's hot enough.
For each pancake, ladle 1/4 cup of batter onto the hot pan. Cook until bubbles appear on the surface, then flip and cook until golden brown on the other side. This will take about 2-3 minutes per side.
Serve your pancakes warm, with your favorite toppings like maple syrup, fresh berries, or whipped cream.
This recipe should make about 8 medium-sized pancakes. Enjoy your homemade pancakes!
Get inspired with some new recipes
Hopefully, our guide to using ChatGPT for recipes left you feeling inspired and well-equipped to generate a whole new cookbook full of ideas. Whether you need something small for an appetizer or want to plan a whole week of meals, AI is ready to assist you through the journey. It's time to embrace technology and step up your cooking game!