How to Track Steps on an iPhone
Tracking steps on an iPhone is easy thanks to the built-in Health app on iOS. Modern-day smartphones are pretty intelligent, capable of automatically tracking many of your daily habits and activities. The Apple iPhone, one of the leading smartphones in the world, has one built-in application that turns this data into metrics beneficial to your wellbeing.
Modern iPhones come equipped with accelerometers and gyroscopes, which measure your device's altitude, rotation rate, and acceleration. One use for this data is tracking how many steps you walked over time. Combine this data with something like the Health app, and you'll see how many steps you walked today, along with some other valuable pieces of information.
So, how do you track steps on an iPhone? Let's take a look.
How to Track Steps on an iPhone
To track steps on an iPhone on iOS 15:
Swipe left until you get to the last page of your apps.
Swipe left again to open the App Library.
Search for "Health" in the top search bar.

Tap on the Health app to open it.
Go to the Browse tab and tap on "Activity" under Health Categories.

Tap on the Steps widget to view your steps by day.
Alternatively, you could always tell Siri: "Open the Health app."
If it's the first time you've opened the Health app, you'll need to configure some details. Tap on Continue and enter your Health Details–basic information the app needs to provide you relevant information.
You should be able to see all of your steps for today and previous days. The settings may be off on your iPhone if you have no steps recorded.
Why is my iPhone not tracking my steps?
Let's look at how to enable step tracking on an iPhone, which falls under the "Fitness Tracking" category on iOS.
How to Enable Fitness Tracking on an iPhone
To enable fitness tracking on an iPhone:
Open Settings on the iPhone.
Tap on the Privacy option.
Scroll down and tap on Motion & Fitness.
Toggle on Fitness Tracking.
Ensure Health has access to your motion and fitness activity.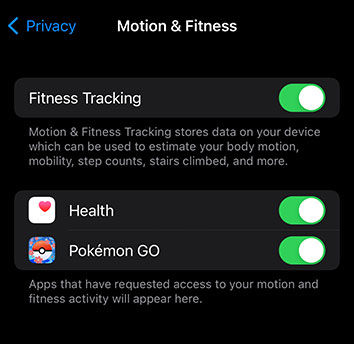 After enabling Fitness Tracking, take a few steps around the house or wherever you're reading this from, and open up the Health app. If you see some steps in there, congratulations–your phone is now tracking your steps!
The average American walks about 3,000 to 4,000 steps a day, and there are 2,000 steps in a mile, according to Mayoclinic.
One of the best features of the iOS Health app is that it graphs out your daily steps. It's easy to tell if you're over or under your average step count per day, which can be an excellent motivator.
For more helpful walkthroughs, check out our Tech Guides section!