How to Clear the Clipboard in Windows 10
There is no doubt that at some point you've used copy and paste. Windows 10 has an interesting feature where you can enable clipboard history, and Windows will store a history of the things you have copied. But what if we want to clear that history or clear the last thing we copied. Here is how to clear the clipboard in Windows 10.
How to Clear the Clipboard in Windows 10
If you don't have the clipboard history enabled then the easiest way to clear your clipboard is merely copying something new. You can copy a space or a letter, and essentially, your clipboard is cleared. However, there is an official Windows way to do this.
Hit the Windows Key
Type "Clipboard"

Click on Clipboard Settings
Click Clear under Clear Clipboard Data
That's all there is to it. On this same screen, you can also enable your Clipboard history. This option will store the things you copy in a list. If you hit Windows + V, the list will pop up.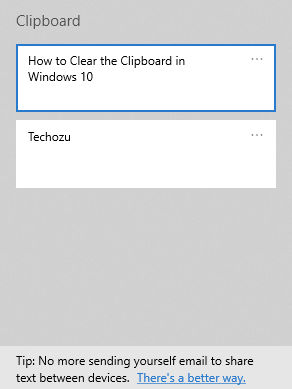 Hitting Clear under Clear clipboard Data will as clear the Clipboard History if you have enabled it.
Now you know how to clear the clipboard in Windows 10 and also how to enable the Clipboard History if you wanted to. Here are a few more cool things you can do in Windows 10