Coinbase Not Loading: How to Fix It and Check the Server Status Coinbase is the number one cryptocurrency exchange in terms of volume in the United States. Whenever major market moves happen, such as the price of Bitcoin or other cryptocurrencies drastically rising and falling, server outages are bound to happen. When this happens, users may have issues with Coinbase not loading, and you'll likely want to check the server status to make sure it's not just you. 
Update: As of May 19, Coinbase is experiencing major outages that prevent the dashboard from loading for many users.
Coinbase Not Loading: How to Check the Server Status
Users experiencing issues with Coinbase not properly loading can do a few things to check the server status. First, Coinbase has an official status page, which details any ongoing issues. You can also subscribe to these alerts by email or phone to immediately know when there are any current issues.
Coinbase issues may sometimes prevent the dashboard from loading in Coinbase and Coinbase Pro. They may also affect other things like depositing and withdrawing cryptocurrency, moving funds, or using credit cards to make purchases.
Clear Cookies and Cache for Coinbase
One thing you can do to try fixing Coinbase not loading is clearing your cache. If you use Google Chrome, you can click on the lock icon to the left of the address bar. Click on the Cookies option, and then remove all of the cookies from coinbase.com and pro.coinbase.com. Refresh the page and log into your account, and see if the page finally loads for you.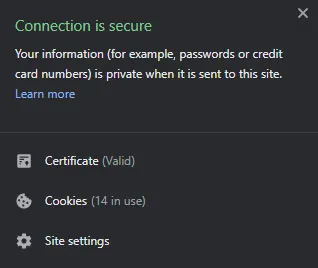 If you are using another browser like Firefox or Safari, you can try press SHIFT+CTRL+DEL and clearing your browser cache.
Reset Internet
If you are still having issues with Coinbase not loading and there are no incidents reported on the official Coinbase status page, you can try a few things to fix it. First, make sure your internet connection is working properly. Try logging into other sites and using services to make sure they are working. If things seem slow or not loading correctly, you can restart your internet modem or router and try again.
Official Support
Finally, if all else fails, visit the official Coinbase Support Twitter for more information. They use this social media account to communicate any known issues to their users. Another good place to check for support is the Coinbase subreddit, on which you can find ongoing threads of people having issues and receive support from Coinbase representatives.
If you try all of these channels and cannot resolve the problem, we recommend contacting Coinbase Support directly and waiting patiently for assistance. One thing to keep in mind is that there is generally a long queue of tickets waiting to be resolved. For that reason, it may take time for a support team member to get to your ticket. It's best to wait patiently for assistance. Continually spamming the support team with messages and emails will not increase your place in the queue.